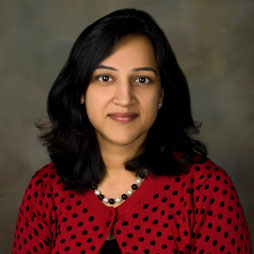 Dr. Baratham is board certified and a member of national allergy and arthritis organizations.  Peers recognize her as an excellent diagnostician. Patients comment that she is a caring and thorough physician.
She moved to Kansas City in 2000, after her medical training in Armed Forces Medical College, Pune, India, one of the distinguished medical schools in India.
She completed her residency in Internal Medicine at the University of Kansas and served a Assistant Professor in General and Geriatric Medicine at KU Med for a year before proceeding to complete two fellowships in a combined three-year program in Rheumatology and in Allergy and Immunology at the University of Kansas.
She serves as an Allergy Specialist and Rheumatologist at the Arthritis and Rheumatology Clinics of Kansas in Leawood.
Dr. Baratham is active in medical research to help further the knowledge about and treatment of these conditions. She approaches patients with an understanding of the special issues facing patients with chronic diseases and with determination to help patients achieve health and well being.
She has published several articles in medical journals and conducted clinical research on various topics. She speaks several languages and is married with 2 children.
Board Certification: Adult Rheumatology
Board Certification: Internal Medicine
Sub Certification: Adult and Pediatric Allergy
Medical School: Armed Forces Medical College, Pune, India
Internship: Military Hospital, Agra, India
Residency: Kansas University Med Center
Fellowship: University of Kansas Medical Center
Armed Forces Medical College, India - MBBS - Aug'93 – Feb'98
Professional Organizations
Publications & Presentations
Blue toe puzzle: A unique presentation of type 1 cryoglobulinemia and multiple myeloma – presented at ACP chapter 2005 – Aruna Baratham MD, Delva Deauna Limayo MD. Biotin deficiency causing secondary chronic mucocutaneous candidiasis in a patient with hyper IgM. A Baratham, N Y.Olson. Annals of Allergy Volume 102, January 2009 P77
Screening for inflammatory arthritis in primary care clinics – Basem Awadh MD, Aruna Baratham MD, Kevin Latinis MD
Effect of Intra articular Corticosteroids injection on bone markers – a pilot study – A.Baratham MD, H. Lindsley MD, B. Lukert MD – Abstract accepted for poster for ACR 2010.
Allen County Regional Hospital
Asthma
Lupus
Osteoarthritis
Nasal Allergy (Rhinitis)
Osteoarthritis (Hand and Wrist)
Rheumatic Diseases
Patient Care
Rheumatoid Arthritis
Hay Fever (Seasonal Allergic Rhinitis)
Gout
Tendinitis
Hip Osteoarthritis
Drug Desensitization
Immunological Lab Tests
Pulmonary Function Test
Skin Testing