Dr. Cara Hammonds, M.D. – Board Certified Rheumatology provider in Paducah, Kentucky.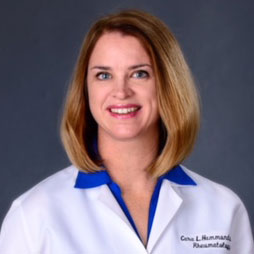 Dr. Cara Hammonds, M.D. received her medical education at the University of Louisville in Louisville, KY and has completed specialty training in Internal Medicine at the University of Cincinnati and Rheumatology at Vanderbilt University.
Dr. Hammonds is Board Certified in Internal Medicine and Rheumatology.
Kentucky, 2010-2010 ABIM Certification in Rheumatology
Kentucky 2009-2019 ABIM Certification in Internal Medicine
College: Murray State University, Murray, KY B.S., May 1999. Summa Cum Laude
Medical School: University of Louisville School of Medicine, Louisville, KY, M.D. May 2005
Internal Medicine: University of Cincinnati, Cincinnati, Ohio. Residency 2005-2008
Rheumatology: Vanderbilt University, Nashville, TN. Fellowship 2008-2010
Special Awards for Professional Activities:
Rheumatology Fellow of the Year (2010)
Teaching Activities: Faculty Preceptor for 1st year VUMC student (Continuity Care Experience 2.0), assisted with fellows' conference (2012-2013)
Professional Organizations
American College of Rheumatology
Paducah Rheumatology January 2013 – current
Clinical Instructor, Rheumatology, Vanderbilt University Medical Center 10/10 – 11/13
Crittenden Health Systems
Marshall County Hospital
Become A PSN Member Today!
Complete the following form to learn more about how we can help you find the perfect opportunity!