Dr. David True, D. O., FACR – Board Certified Rheumatology provider in Springfield, Missouri.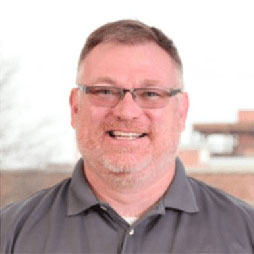 Dr. True was born in Fayetteville, AR but was mainly raised in El Paso, TX. He received his undergraduate degree the University of Texas at El Paso. (The only university in the state of Texas to win an NCAA men's basketball national championship!). He graduated from the Texas College of Osteopathic Medicine located at the University of North Texas Health Science Center in Fort Worth, Texas.
His internal medicine residency and rheumatology fellowship training were both received at Wilford Hall USAF Medical Center on Lackland Air Force Base in San Antonio, TX. He served a total of 9 years in the USAF before moving on to civilian practice opportunities. He ultimately located here in Springfield in 2010, where he attempts to keep up with the force of nature that is his wife and tries in vain to get his daughter to remember that he was, at one time, her favorite. He has also been employed at Clinvest Research since 2016, where he serves as the Medical Director.
American Board of Internal Medicine -Certified in Internal Medicine
American Board of Internal Medicine - Certified in Rheumatology
GA State Medical License
KY State Medical License
MO State Medical License
San Antonio Uniformed Services Health Education Consortium
Fellowship, Rheumatology
San Antonio Uniformed Services Health Education Consortium
Residency, Internal Medicine
Texas College of Osteopathic Medicine
Medical School
Professional Organizations
American College of Rheumatology – ACR – Fellow
Publications & Presentations
Vertebral anomalies associated with Goldenhar syndrome. Heather C. Yun, David Grayson, David True
Disseminated cryptococcal infection in rheumatoid arthritis treated with methotrexate and infliximab. David G True, Mohan Penmetcha, Steven J Peckham
Clinical images: Hydroxychloroquine-associated mucocutaneous hyperpigmentation. David G. True, L. Ray Bryant, Mark D. Harris, Richard A. Bernert
Golden Valley Memorial Healthcare
Mercy Hospital – Carthage
Rheumatoid arthritis
Psoriatic arthritis
Gout
Ankylosing spondylitis
Systemic lupus erythematosus
Sjogren's syndrome
Scleroderma
Vasculitis
Dermatomyositis
Polymyositis
Osteoporosis
Osteoarthritis
Infliximab (Remicade)
Golimumab (Simponi Aria )
Certolizumab (Cimzia)
Abatacept (Orencia)
Tocilizumab (Actemra)
Rituximab (Rituxan)
Belimumab (Benlysta)
Ustekinumab (Stelara)
Zoledronic acid (Reclast)
Denosumab (Prolia)
Romosozumab (Evenity)
Become A PSN Member Today!
Complete the following form to learn more about how we can help you find the perfect opportunity!