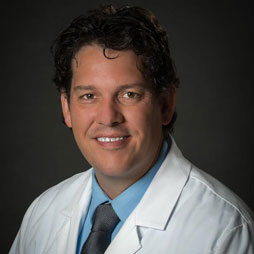 Jonathan E. Wilson, D.O. returns to his rural roots as a member of the vascular surgery team at Kansas City Vascular, PC. Having grown up in Independence, on the acres of the Fort Osage Christmas Tree Farm, and having graduated from Fort Osage High School, Dr. Wilson developed an early affinity for the people and places of the Midwest.
His early scholarship was evident as he graduated summa cum laude with multiple honors from Abilene Christian University in Abilene, Texas, focusing on biochemistry with an emphasis in molecular genetics. His graduate studies led him to the University of North Texas, Columbia Hospital and Palms West Hospital in Florida, and finally to the University of Missouri where he completed his general surgery residency and vascular surgery fellowship.
Dr. Wilson's professional leadership has continued as he has co-authored several recent publications and has been an invited guest lecturer at conferences in Canada, India and Egypt. He is a Fellow Member of the Society of Vascular Surgery, member of The American College of Osteopathic Surgeons, as well as numerous other professional organizations. He specializes in all aspects of vascular surgery, including thoracic endovascular aneurysm repair, hyperbaric oxygen therapy and wound healing, with a special interest in dialysis access.
When not caring for patients Dr. Wilson enjoys spending time at home with his wife. He is an avid fisherman and also devotes time to medical missions, including a mission endeavor in Guatemala, where he had time to employ his Spanish speaking skills. Dr. Wilson is a personable, skilled and respected member of the Kansas City Vascular team.
General
AOA Board of Surgery
General Vascular
AOA Board of Surgery
Medical School
University Of North Texas Health Science
2005
Residency
Columbia Hospital
2008
Residency
University Of Missouri, Kansas City
2011
Fellowship
University Of Missouri - Columbia
2013
Professional Organizations
American Osteopathic Association (AOA)
American College of Osteopathic Surgeons (ACOS)
Society of Vascular Surgeons (SVS)
Christian Medical and Dental Association (CMDA)