Dr. Karl Stark, M.D. – Board Certified Vascular Surgery provider in Parkville, Missouri.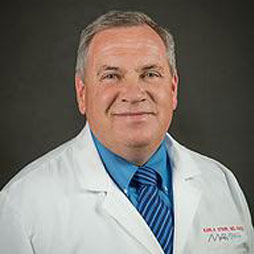 Karl R. Stark, MD is a broadly recognized vascular surgeon whose leadership in open and endovascular surgical techniques, as well as treatment of chronic wounds, has spanned three decades. He is certified by the American Board of Surgery and is a Fellow of the American College of Surgeons with additional certification in vascular surgery. Dr. Stark also has extensive experience in performing the latest treatments of varicose veins through laser therapy and radiofrequency ablation.
As Director of the Wound Healing Center at North Kansas City Hospital, Dr. Stark stays in the forefront of research regarding wound treatment and is frequently invited to deliver presentations for medical colleagues. His tenures as president of the Kansas City Surgical Society, Chief of Vascular Surgery at the Truman Medical Center School of Medicine, Clinical Associate Professor at the University of Missouri – Kansas City, and current memberships on multiple committees of North Kansas City Hospital and the Society for Vascular Surgery all attest to his commitment to collaborative academic development.
Dr. Stark's roots are in rural Missouri. His patients know him as a man who is grounded in respect for them and for commitment to providing his patients with the best possible medical service.  Member of the Society for Vascular Surgery.
American Board of Surgery
UMKC School Of Medicine - 1979
Professional Organizations
Society for Vascular Surgery
Kansas City Surgical Society
American College of Surgeons
Metropolitan Medical Society of Greater Kansas City
Advanced Practice Professionals Committee of North Kansas City Hospital
Surgery Advisory Committee of North Kansas City Hospital
Cameron Regional Medical Center
Laser Therapy
Radiofrequency Ablation
Become A PSN Member Today!
Complete the following form to learn more about how we can help you find the perfect opportunity!