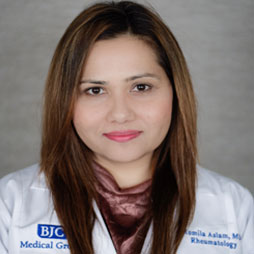 PSN is proud to work with Dr. Aslam and BJC to provide Rheumatology services in Sullivan, MO.
Dr. Romila Aslam specializes in rheumatology and has over 20 years of experience in the field of medicine.
She completed her residency and fellowship at University of Tennessee Health Sciences Center. She earned her medical degree at Allama Iqbal Medical College in Lahore, Pakistan. She has been in practice for more than 10 years.
Dr. Aslam has special medical interests in rheumatology, lupus, psoriatric arthritis, gout and joint injections.
American Board of Rheumatology Certified December 2008
American Board of Internal Medicine. Certified November 2007
Inservice Examination. (2003)
Clinical Skill Examination. (2002)
TOEFEL. English Language Examination) (2002)
USMLE Step 1, (2001)
USMLE Step 2, (2000)
Training (Fellowship and Residency)
Rheumatology fellowship at " The University of Tennessee-Memphis.USA".
August 2006—August 2008
Internal Medicine Residency at "The University of Tennessee-Memphis.USA".
July 2003 to August 2006
VA Hospital, Memphis. Tennessee. USA
Clinical Observership in Internal Medicine. (2002)
Lebonheir Children's Hospital, Memphis, Tennessee
Clinical Observership in Pediatrics (2002)
Mayo Hospital Lahore, Pakistan
Internship in Internal Medcine (9/98-3/99)
The Children's Hospital, Lahore, Pakistan
Internship in General Pediatrics (4/99-9/98)
Education
Allama Iqbal Medical College, Lahore. Pakistan.
M.B.B.S (Bachelor of Medicine and Bachelor of Surgery), Ist attempt. (1998)
Punjab University. Lahore. Pakistan.
B.Sc. (Bachelor of Science) (1998.)
Government Kinnaird College For Women, Lahore. Pakistan.
F.Sc (Faculty of Science).. Secured 1st division, Ist attempt. (1992)
Convent of Jesus and Mary School. Lahore. Pakistan
Senior Cambridge.. Ist division, Ist attempt. (1990)
Merit scholarship during Medical school.

Selected as best intern.

Multiple merit certificates during high school.

American College of Rheumatology. Dec 2006 – to date
Allama Iqbal Medical College. Lahore, Pakistan
Visited rural health Centers, and participated in primary health care activities for Dept. of Community Medicine. (12/96-12/97)
Jinnah Hospital. Lahore, Pakistan
Participated in National Polio Eradication Program. Conducted by Community Medicine Dept. (12/96-12/97)
Kinnaird College, Lahore, Pakistan
Participated in National Cadet Corps, Kinnaird College for Women, Lahore, Under an affiliation with Punjab University, Pakistan (1990)
Publications & Presentations
Patient With HER2-Overexpressing Metastatic Breast Carcinoma Treated With Trastuzumab-Based Therapy. Case studies in Breast Cancer. – August 2004; Vol 3, No 11: 3-6
BJC Missouri Baptist Sullivan Hospital
Mercy Hospital Lincoln
Washington County Memorial Hospital
Lupus
Psoriatric Athritis 
Gout