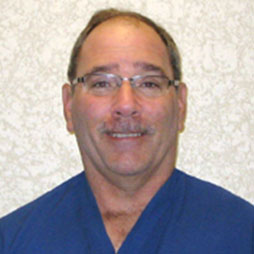 Dr. Bembynista offers expert podiatric services and focuses on patient care and responding to individual patient needs. He treats Nail Fungus, Heel Pain, Plantar Fasciitis, Bunions, Ingrown Nails, Plantar Warts, Hammer Toes, Morton's Neuroma, PRP Platelet Treatment, Tailor's Bunion, and he makes Custom Made Orthotics. When treating patient's he always uses conservative treatment before ever considering any type of surgical correction of the problem.
Dr. Bembynista is originally from Chicago but has been practicing in Kansas City for 37 years. He married to the love of his life Barbara for 40 years and has a son. His philosophy is always to put the patient first, time will always be taken to listen to their problems and review treatments. Each care plan is tailored to the individual patients needs. He uses advanced technology with digital x-rays, lasers, and instructional videos.
Dr. Bembynista is a Board Certified by the American Board of Podiatric Surgery. He attended medical podiatry school in Chicago and did his training in the Kansas City area in 1982. 
American Board of of Foot and Ankle Surgery Podiatric Surgery
Podiatric Training
Illinois College of Podiatric Med., Chicago, IL
Preceptorship
Lakeside Hospital, Kansas City, MO
Diplomate, American Board of Podiatric Surgery
Publications & Presentations
Ray County Memorial Hospital
Nail Fungus
Heel Pain
Plantar Fasciitis
Bunions
Ingrown Nails
Plantar Warts
Hammer Toes
Morton's Neuroma
Tailor's Bunion